Do you have a question? Post it now! No Registration Necessary
Threaded View
Subject
Author
Posted on
posted on
August 23, 2003, 6:16 pm
Ich habe hier ein Gehause mit ATX Netzteilen (Redudant 2x300 (bzw 480Watt)
Leider hat das neue Board was ich einbauen will einen 2 Spannungsanschluss,
einmal ATX und einmal 12V extra (quaratischer Stecker ca 1,5x1,5cm)
Nun meine frage kann ich einfach die 12Volt die das Board noch fuer den CPU
braucht aus dem ATX Strang rausziehen? Oder muessen die Spannungen extra
getrennt sein?
Die Leistung ist auf jedenfall da.
danke fuer jede Antwort.
--
MFG
Lars Langewiesche
We've slightly trimmed the long signature. Click to see the full one.
posted on
August 23, 2003, 6:38 pm
Permalink
Re: ATX Netzteil -> Mainbaord hat ein Stecker mehr.
Es gibt Adapter die diesen extra Stecker (2x 12V, 2x GND) mit
einem Stromstecker fuer Festplatten des Netzteiles verbinden. Nicht
optimal, aber besser als darauf zu vertrauen, dass die einzige Leitung
fuer +12V des ATX-Steckers die Last aushaelt. Es gibt Bilder von Boards
bei denen es nicht reichte und der Stecker schmolz...
Kauf dir so einen Adapter und steck ihn an einen Stromstecker der
ein moeglichst kurzes Kabel zum Netzteil hat.
Sieht so aus: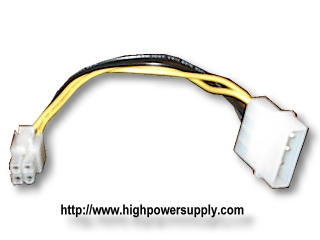 http://www.highpowersupply.com/accessories/atx12v-show.jpg
Gerrit
posted on
August 23, 2003, 6:54 pm
Permalink
posted on
August 23, 2003, 6:56 pm
Permalink
posted on
August 23, 2003, 7:33 pm
Permalink
Site Timeline